Film productions in Czech Republic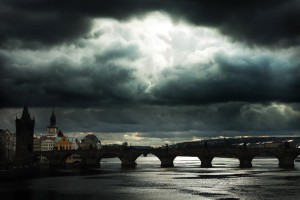 Photograpy: Gabriele Bertolini
Czech Republic, Prague in particular, is experiencing in these recent years, a period of particular interest for international film industry.
How to justify this trend?
Why do many important international production agencies decide to invest in Prague?
Located in the heart of Europe, Prague has the charm of the ancient city, capital of culture and cradle of Gothic architecture, that makes it in a timeless space.
Penetrating in its villages in fact, you can come across, almost continuously, to movie sets, whose time universes may vary from the Middle Ages (The Last King – Charles II: The Power & the Passion, The Musketeers),to the '20s (Maigret, Houdini),from the years of World War (Company X, Child 44) ​​to the present (The Coldest City, A man in the dark), passing through the indefinite periods of our imagination (Underworld: Blood Wars, Van Helsing, XXX, Chronicles of Narnia).
Beyond the romantic, there are still reasons from a more strictly economic: Czech Republic is a country rather young (Prague Spring: 1968, Velvet Revolution: 1989, separation from Slovakia: 1993), and has maintained its currency although it is part of the Schengen area, so the Euro crisis that manifested in many European countries since 2008, has not affected it, and it maintained an open market with competitive prices.
To this we must add that the government has promoted a series of tax breaks (tax credit) that return up to 20% of the investments made to shoot movies, documentaries and TV series (fondkinematografie.cz/english/) in this country.
The sum of all these factors has created a fertile ground for film and television, helping the economy in this direction, which we all hope will continue for several years.